I have a treat for you guys. The next couple of blog posts will be by some wonderful guests! First up on deck is an author who you all got to meet a few weeks ago. If you missed her post on why she writes erotica,
check it out
! But wait until after you read today's :) because don't we all want to know what those first few weeks feel like after you debut you're writing?
So without further rambling from me, I'll turn it over to Tiffany...
My Release by Tiffany Reisz
No, I'm not talking about that kind of release. Considering my last blog post here at Hot Roni's House of Fiction and Friction (that is the name of the blog, right?) was about sex, I feel the need to clarify. I'm talking about a book release--that glorious nightmarish long-awaited day when your book that you sold a year and half earlier and sort of forgot about finally comes out. Some of you know what this experience is like. For those of your still waiting for your first release, here's what's in store for you.
My first Release Day was December 1, 2010 for my erotica novella Seven Day Loan. Release Day is bizarre. You feel both frantic and impotent all day while you obsessively watch your Amazon sales rank and wonder whether or not 3000 is good or terrible. Does that mean I've sold five books today or five hundred? No idea.
Side note here - Dear Nielsen Bookscan, Please get your arse in gear and start tracking eBook sales. I really do need another thing to obsess over. Love Always, Tiffany Reisz, Smut Peddler
Back to the Book Release. When you have no money, you have to get creative with your marketing. I got a very cheap ad for two months on a popular Erotica blog. I pouted and got nice people like Roni Loren to let me guest blog and pimp my wares. And on Twitter engaged in a little something I call "False Advertising." The following are my real tweets attempting to get people to buy Seven Day Loan on Twitter:
Buy Seven Day Loan! Free orgasm with every purchase. #falseadvertising
Buy Seven Day Loan! Free phone sex with the author with every purchase. #falseadvertising
Buy Seven Day Loan! Free centaur with every purchase. #falseadvertising #hunglikeahorse
Buy Seven Day Loan! Win a night with the author! #falseadvertising #worstprizeever
Have I actually sold anything with my creative false advertising? Probably not but it does amuse the Twitter followers. I believe in the power of humor as much as the power of sex. And of course, anyone who has even had sex knows you need to have a sense of humor about it. The same applies to a book release. If you don't laugh, I promise you will cry.
Anywho, back to the releasing. What's the best part of having a book released? Is it the constant checking of sales rank? Is it reading of negative reviews (sorry, Lady, but it's called a NOVELLA for a reason - don't give me a bad review ONLY because you thought it was too short - novella, not novel, no...vel...la--three syllables)? Is it the fears of annoying your Twitter followers and your friends by begging them for Amazon reviews, begging them to buy it, begging them to tell their friends, family, doctors, hairdressers, and pet-sitters about it? No, I think the best part is how distracting having a book out is. You can't think about anything else. You can't write. You can't focus. You just tweet and email and harangue.
Recently I asked another erotica writer about marketing. This writer has had many books out in her long lucrative career. I went up to her and her agent after a booksigning and asked, "I've got a novella out. What do you suggest for marketing?" The bestselling writer said, "Keep writing and releasing stuff. Build a backlist. And don't worry about marketing. The more you market a release the worse the book does."
Well, NOW they tell me.
*head meets desk*
Feel free to ask Tiffany any more questions about her experience, I'm sure she'll stop by later to answer anything you may throw out there. :) And just for fun, I'd love for y'all to come up with your own false advertising one-liners. Maybe Tiffany will use some of them to continue her twitter campaign. :) (And they don't have to be dirty, but they better be funny!)
Thanks to Tiffany and remember to check out her novella Seven Day Loan! I read it in one sitting and was truly amazed how Tiffany weaved such a story, a sense of place, and full characters in such a short amount of space. And it's a perfect winter read because you'll feel like you're tucked away in some secluded New England manor with the characters.
You
can get it
here
or on
Amazon
. It's less than $3, so don't you owe yourself a little pre-holiday treat today? :)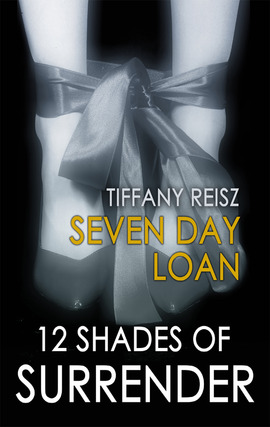 Tiffany Reisz lives in Lexington, Kentucky with two roommates, two dogs, two cats, and one hedgehog which doesn't belong to anyone who lives in the house and no one is actually sure how he got there. She graduated with a B.A. in English from Centre College in Danville, Kentucky and is making both her parents and her professors proud by writing erotica under her real name. She has five piercings, one tattoo, and has been arrested twice. When not under arrest, Tiffany enjoys Latin Dance, Latin Men, and Latin Verbs. She dropped out of a conservative southern seminary in order to pursue her dream of becoming a smut peddler. Johnny Depp's aunt was her fourth grade teacher. There is little to nothing interesting about her. If she couldn't write, she would die.
www.twitter.com/tiffanyreisz